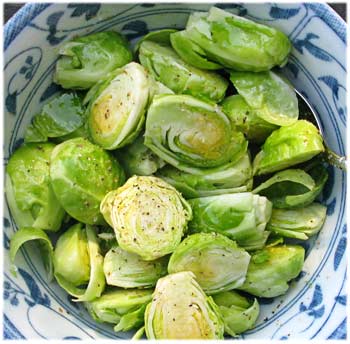 Okay, we finally got up the nerve to try raw brussel sprouts! Today at the farmers market they looked so good, so fresh, so cute—just like little baby cabbages. And cabbage is a house staple. So we thought, what the heck!

In the interest of promoting food diversity for better health, we brought some home, cut them up, drizzled on a little oil, ground some fresh salt and pepper on top, and added a little balsamic vinegar. The result? Our childhood response of
yuck
to cooked brussel sprouts instantly disappeared, and now they will become one of the new foods we enjoy.

Salad:
Try fresh raw halved brussel sprouts marinated for 30 minutes with oil, vinegar (use lemon juice if you can't use vinegar) and garlic. Serve with lemony sorrel leaves (another new green for us), some spinach or lettuce, a little bit of finely chopped green onions, a handful of walnuts, some avocado, and your favorite dressing.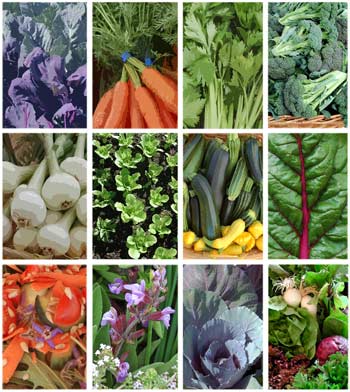 Coming together despite differences helps us to open up, to see the world in new ways. Just as it is with plants, we need people biodiversity. If we were all the same there would be no movement, no surprises, no stimulus, nothing to rub up against to help us define ourselves, or to help us polish our rough spots.

Imagine a world with only one note, one state of mind, one color, one melody or song. We need variety to create movement, growth, and change, to paint our canvases of life with vibrant colors.

The same holds true with plants—we need their diversity. The huge agribusinesses have taken so much away from us by narrowing down the field, providing just a few varieties of many of the foods we find in the supermarkets. The great potato famine in Ireland was a warning. Grow just one kind of potato, and if disaster strikes, there's no alternative and people go hungry.

We have choices. Small home gardens, local farms, buying regionally, supporting farmers markets, getting organic seed catalogs with heirloom varieties, working with seed-saver groups—these are all ways in which we can foster biodiversity, and help protect our future.

Surrounding all of us, and deep within our being, is a love that is greater than all conflict, a place where we can meet and find solutions to our differences. This love will surely inspire us to find and celebrate our own unique ways to dig in the soil, plant seeds of biodiversity, and to enjoy the fruits of our labor!