This salad is truly savory. When we first made it, we scooped up every single morsel from our bowls, and said frequently during the meal how delicious and satisfying it was.

We'd gotten super fresh celery (stringy, tough celery just won't do!) and some of the newest crop of Fuji apples which provided the base. To this we added green onions, cashews, and avocados. This created a full spectrum of tastes and textures: salty, sweet, tangy, bitter, crunchy, juicy, and smooth. The result is a meal that feels balancing to the body, and good in the tummy.

This salad would make a lovely accompaniment to any holiday meal (which could replace the often served Waldorf Salad), or as a delightful contribution to a potluck dinner.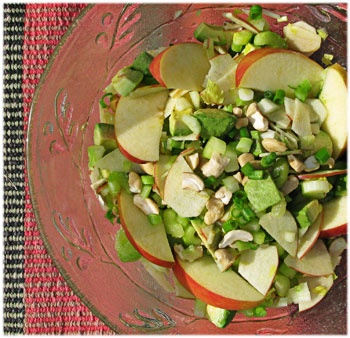 Ingredients: Serves 2
1 cup celery, thinly sliced and chopped (use inner stalks if necessary)
1/2 cup apples (1/2 of an apple), very thinly sliced and chopped
1 small Hass avocado
1/4 cup raw cashews
4 tablespoons green onions, finely sliced
Remaining half of apple for wedges.
Juice of 1/2 lemon

Directions
Wash celery and apples under cool running water. Finish with a final pure water rinse. Pat dry.
Cut apple into quarters. Remove inner core.
Slice 1/2 half of the apple paper thin using a
Mandoline
, or by hand with a good knife. Put into a serving bowl.
Chop celery, and then dice. Add to bowl.
Finely slice green onions, and add to bowl.
Add cashews and mix ingredients well.
Peel avocado, remove pit, and chop. Add to bowl, mixing gently.
Cut remaining half of apple into wedges. Place around outer edge of salad. Use as little scoops, like crackers.
Serve with a tahini-honey-mustard dressing: 2 tablespoons each: honey, stone ground mustard, tahini, and enough pure water to dilute to desired consistency. Put all ingredients into bowl, and mix well with a spoon.
Note: If you aren't going to eat the salad right away, squeeze some fresh lemon juice on top to prevent oxidation.

What are the ways that we can become more deeply in tune with ourselves? For me, this often comes through inner listening, watching how my body feels (the nervous system can tell me so much), remaining true to my spiritual beliefs, and not allowing fear to keep me from moving forward. All of these are like invitational practices that can assist in cultivating a sense of my own "true North", a state of being that is most in alignment with my purpose for living. In short, doing what I came here to do with love in my heart.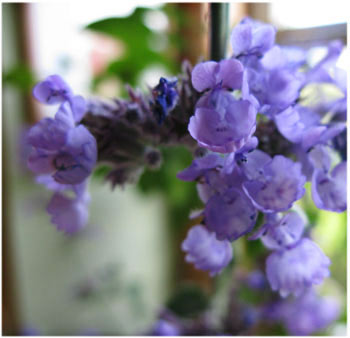 Our culture is one that so often tells us what to do, how to eat, how to live, how to dress, how to think, or what's right for our health. Advertising, mass media from TV, newspapers, politicians, and more, all want to convince us to follow their ways. Of course—this is where the money is! Perhaps their biggest fear would be a world of creative, heart-based, free thinkers!

In the wild, diversity is what makes nature strong. Nature is honest and true, and cannot lie, or be anything other than what it is. Our own inner true north points the way to personal, unique diversity which nurtures authenticity, spiritual growth, and fearlessness.

The authenticity I'm talking about here is where one moves through the world with integrity, ethics, kindness, and compassion. We each must find our own portal, and the key that unlocks the secrets of the hidden chamber that holds the most vital information about our life.

In this light we wish to celebrate the authenticity of Soul that has come to us through the birth of our first grandchild, Elijah William Doane! Soon we will be making a trip to welcome this sweet new child into our lives. A baby is closest to the Source, the most pure. The circle continues... what could be better?