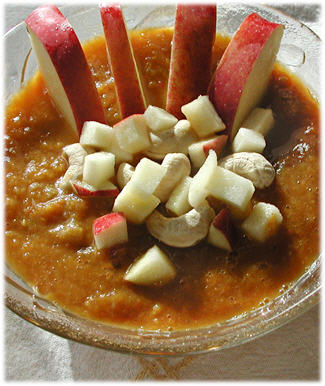 Ingredients for Spicy Mango Chutney:
1 and 1/4 cup mango, peeled and chopped
4 tablespoons golden raisins
2 tablespoons red bell pepper, minced
2 tablespoons sweet yellow onion, minced
2-3 teapsoons finely grated fresh ginger root
1 and 1/2 teaspoons balsamic vinegar
1/2 teaspoon cinnamon powder
1/2 teaspoon fenugreek powder
1/2 teaspoon coriander powder
1/2 teaspoon fennel powder
1/4-1/2 teaspoon Himalayan or Celtic salt
1 tiny pinch cayenne powder
1 tiny pinch cardamom powder
Garnish: Apples, diced and sliced, and cashews
Variations: Replace the cinnamon, fenugreek, coriander, fennel, cardamon, cayenne, and ginger with 2-3 teaspoons of your favorite curry powder.

Directions:
Put raisins in bowl and cover with pure water for 1-2 hours to plump. Drain.
Combine all ingredients in a bowl and mix well for a chunky chutney.
Or, put all ingredients into food processor and pulse to desired consistency.
Serve immediately, or allow to sit for one hour for flavors to meld.
by Chitra Banerjee Divakaruni, the heroine, Tilo, is devoted to the spices. About fenugreek she reveals: "
However we envision the spices, whether they stimulate our imagination or taste buds, or help us digest our food, there is no question that they bring excitement to what might otherwise be a bland, or ordinary dish. Tilo would tell us of the hidden and mysterious healing properties inherent in the spices, qualities that must be understood to use them to the utmost.
Rex and I are having a wonderful time learning more about the spirited flavors of the spices and how to use and enjoy them. We have found in this recipe that the golden fruits stir our hearts with deep appreciation while curry falls like powdered sunlight over the shimmering landscape!