Sun infused corn and tomatoes make a luscious, thick corn chowder with beautiful color. This chowder really fills us up and it's great to get really full from something that's not cooked. Enjoy as an appetizer, or as a whole soup entree. Blending makes the corn so much easier to digest because there are no tough fibers to chew.

Serve warmed or chilled. It can also be used as a sauce for salads.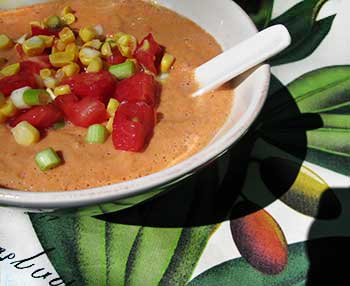 Makes one large bowl for a whole meal, or will serve 2-4 depending on amount put into each bowl
3 ears corn, shucked, with kernels cut off ear (reserve 1/2 cup for garnish)
1 cup tomato, chopped (reserve a few tablespoons for garnish)
4 tablespoons green onion, or sweet yellow onion (save some for garnish)
1 small clove garlic
1 teaspoon
Ras el Hanout
, or curry powder
1/4 teaspoon Himalayan salt, optional
Fresh cracked black pepper, to taste
Garnishes:
corn kernels, a little green onion, a few cilantro leaves, and chopped tomatoes.

Directions
Put all ingredient into Vitamix, and blend until creamy smooth.
Transfer to a pan, and warm to 115 degrees.
Pour soup into bowls.
Add garnishes and serve.

I recently had a couple of difficult weeks when my mouth was so sore I couldn't chew because I'd bit it in several places while I slept. One night for dinner I made a warmed corn and tomato dish, thinking it would work well because the pieces were small. To my momentary disappointment, it hurt way too much to chew, and I thought, well, I guess I'm just going to have to blend everything up.

Thinking it would be "less than" the dish I'd prepared, I was in for a big surprise. After transferring everything to the Vitamix (without any water) and blending to make a velvety smooth soup, Rex and I quickly realized that I'd stumbled upon a new recipe: luscious corn chowder.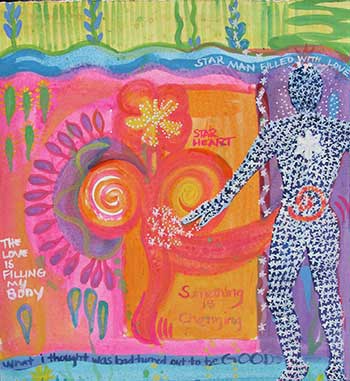 This tied in with an experience I had while doing an intuitive painting, the process of which is described in the book,
Life, Paint, and Passion
. The co-authors share how to paint completely for process, where there is no goal to create a finished product. In fact, a finished piece is the farthest thing from the act of creation that is taking place, expressed through paint, brushes, and the paper. This kind of painting is done so that the body and intuition express the creative flow that is coming through in any given moment. What it looks like is secondary.

As this simple painting that you see here unfolded (I never knew what was going to come next until it arrived), I began to see a black figure entering from the right side. The dark color felt ominous and I was a little afraid and reluctant to paint it because the rest of the painting was filled with bright, happy colors and forms.

After three days of procrastinating and not painting at all (a sure sign that I'd blocked what was meant to come forward), I finally saw the figure again. This time it was a very dark blue, almost black, and to my complete and utter surprise, it was filled with stars.

As painted the dark figure, this awareness came to me:
what I thought was bad, turned out to be good
. It was a strong life lesson to not resist or block something at the onset because my mind had responded through some old programming, and jumped to a conclusion that something was "bad", which in this case, actually turned out to be entirely wrong.

I never would have learned this lesson if I'd refused to paint the figure. Simple phrases came through as I worked:
Something is changing
;
star man filled with love
;
star heart
; and
the love is filling my body
. Another lesson I learned is that I sometimes fear the darkness, only to find that it too can be filled with love and light.