Crunchy, sweet, and pleasing, are the words that define this quick and easy side dish. In minutes, fresh raw corn, celery, green onions, a little salt and pepper transform to become a tasty salad that can be eaten as a quick snack, or added to a bed of greens for a larger meal. If you like hot and spicy foods, add a shake of cayenne, or some minced hot peppers.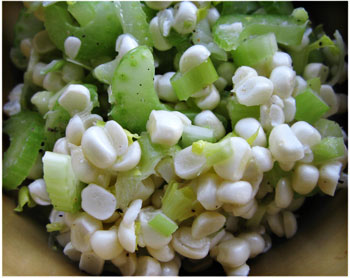 Ingredients (Serves 2):
2 ears raw white corn
3/4 cup celery, sliced
3-4 tablespoons green onions, minced
2 tablespoons olive oil, or Spectrum walnut oil
Salt and pepper to taste

Directions
Husk corn, and remove cornsilk from cob. (I usually do this under cool running water.)
Slice corn off cob, and place in bowl.
Thinly slice celery, mince onions, and add to bowl.
Add the oil, salt and pepper, and mix well.

There are so many levels of eating. Choices range from whole foods, vegetarian, meat based, plant based, raw food, juicing, blending, fasting, or any mix of the above. Our intuition can lead us to find what mode is right for us.

Defining questions to ask might be: How much raw food is good to eat, and in what form—whole, juiced, dehydrated, fermented, or sprouted? How much cooked food is good? What foods are easiest for the body to digest? How does the body feel after eating (energized, heavy, alert)? How are the mind and emotions doing? Is the heart open to love, and is there a desire to be of service?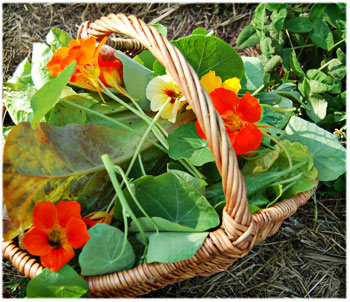 Jinjee, from
The Garden Diet
once wrote that if there's more energy at the end of the day than at the start of the day then rejuvenation is taking place. This piqued my interest: we have begun to look at this with greater awareness, checking to see if we're getting enough nutrients to have full energy throughout the day.

If Rex and I are tired at any time this can be an indicator that we haven't taken in enough nourishment to meet our needs. Achy muscles, low emotions, or brain fog are clear signs from the body that we need a nutritional boost. For us, this usually comes in the form of juice, maybe with the addition of some superfoods like bee pollen, or
Vitamineral Green
.

I used to sometimes dig in my heels at the thought of "having" to make juice to feel great. I used to think we should be able to get it all from regular meals. Now I realize how important it actually is to make juice—it's literally free energy, because there's virtually no digestion that has to take place. The juice is taken up immediately, and the nutrients go directly into the bloodstream.

Those feelings of zestfulness, with a sensation of the top of the head opening up, are from the high levels of nutrition and enzymes (the carriers of life force) that are present in nutrient dense foods. This gives us instant energy, and revitalizes our minds and our ability to live life to its fullest.

Coming next week: Part Two of Energy in Food: What we learned about the Hippocrates Diet, and our new experience with high protein, juiced sprouts, mixed with other ingredients to make a delicious and amazingly energizing, fortifying drink!