Coming home from Hawaii, we were greeted to a most welcome Indian Summer. Cooling gazpacho soup was made possible by the gift of tomatoes, cucumber, and peppers from the bountiful garden of our friend, Eliza Buck. We've found that the trick to making delicious, sweet, gazpacho is using lots of ripe tomatoes. Thanks to Eliza, this recipe sings!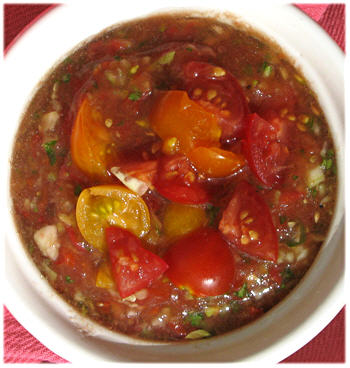 Ingredients: Serves 2
4 cups ripe tomatoes, chopped
1/2 cup celery, chopped
1/2 cup cucumber, peeled and chopped
4 tablespoons green onion, chopped
4 tablespoons red bell pepper, chopped
4 tablespoons parsley, finely chopped
1 1/2 tablespoon olive oil
1 teaspoon balsamic vinegar
1/2 teaspoon Himalayan salt
1/4 teaspoon freshly ground black pepper
Garnish with extra chopped tomatoes.
Minced hot pepper and garlic could be added for more "bite".

Directions:
Rinse all veggies in cool water.
Chop veggies and place in blender or food processor with oil, vinegar, salt and pepper.
Pulse to desired consistency.
Serve immediately, or chill for an hour or two
A Little Story: A Week in Hawaii


Aloha, dear readers—hello. Our trip to Hawaii was filled with love, and a wonderful sense of well being. It was all about being with my dad and step-mom, and the sundrenched, warm waters of Waikiki beach.

Rex and I thought we'd want to go off for various activities while there, but hanging out with Dad and Sharon (who had made our trip possible), having heart-to-heart talks, lazing under the shade of the beach umbrella, eating and swimming, became a cocoon where the days slipped by in the brilliant light, and the constant drone of waves.

The water was enticing and we began to feel like sea creatures. Getting out was tricky—more than once the waves knocked us flat on our rear ends, and sent us sprawling while we tried with all our dignity to stand up!

Back on shore, the feeling of the waves persisted whenever I closed my eyes, especially in bed at night. I would see the waves, voluminous and swelling, or feel the powerful push and pull of the incoming and outgoing waves at the shore. The fluid patterns of sea and sky floated before me, velvety soft, all aqua, turquoise, and deep blue, rolling and mixing before my vision in a watery, wavy, collage.

I began to think of the water as "mother", addressing her with this familial term each time I entered. Twice, my grandmother (who had passed from this world five years ago), came to me. Her presence, and thoughts about my mother who had recently died, made me cry. I let my tears fall, merging into the great sea—the source of life. The water and my Grandmother's love were a comfort, and they enfolded me completely.

The time spent with dear family and the water set me on course, "put me right". This was a wondrous gift, a treasure to hold close to our hearts for many years to come. Mahalo, Dad and Sharon, thank you,