Lately, we've been enjoying energizing hemp seed nuts. They have a mildly nutty, somewhat earthy flavor, and are nutrient-rich with easily assimilated edistin protein, considered to be the backbone of DNA. Hemp seed nuts contain an abundance of Omega 3 EFA, much like those found in flax seed, or fish oils. For us, this is a real health boost, and it's one of the reasons we eat them.

Hemp Seed Nut Milk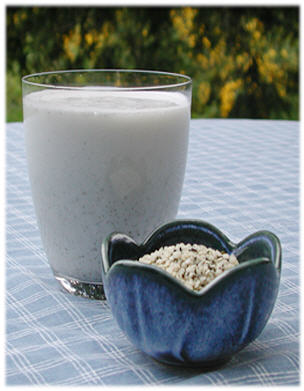 This recipe is fast and easy to make. No soaking of seeds is involved—just blend and drink! Tip: Because of the unusual flavor of the hemp seeds, you might wish to add a couple of tablespoons to a banana and strawberry smoothie (our favorite!) until you get used to the taste.
Ingredients (serves 1):
2 tablespoons raw hemp seed nuts.
(We like Nutiva, which is available at most health food stores or online.)
3/4 cup pure water
2 teaspoons agave nectar
1/2 teaspoon vanilla extract, or 1/4 teaspoon powdered vanilla bean
Directions:
Put hemp seed nuts into blender with 1/4 cup water, agave, and vanilla.
Blend on highest speed for 30 seconds.
Add remaining water. Pulse to mix.
Milk will be a little frothy. Strain, if a super smooth milk is preferred.
Serve immediately, or cover and store in fridge for 2 days.

A Little Story:

This last weekend I was part of the local island's artists studio tour, selling cards and prints. We were very busy, and didn't have much time to make anything to eat. We relied on hemp seed nuts to deliver fast and easy nourishment in smoothies and sprinkled over freshly sliced tomatoes and greens with a little tangy dressing drizzled on top.

As the weekend progressed, I thought more and more about how busy most people are, especially mothers with young children. This milk would make a wonderful addition to any family's diet, and in particular, for children or grown-ups who are allergic, or sensitive (like Rex and I are) to milk. It's so fast to whip up a few cups of milk, or to throw a few tablespoons of seeds into a smoothie, or sprinkle them over any dish.

Fortunately for us, over the last few years, Canadian hemp seed nuts have become available in this country, and hemp clothing too. Hemp had been declared illegal to grow in this country in the 1930's. Prior to this time, for centuries, various parts of the hemp plant had been used for food, medicine, rope, clothing, sailcloth, paper, and more. It was Henry Ford's dream to make cars completely from hemp, turning it into a plastic for the car's body, and as a fuel to run the car! Just Google "hemp history" and be amazed to learn the truth about hemp.

Over the weekend, I was touched by the hundreds of people who passed through the studio, and of the inspiring women with whom I shared the space—Julie, Winnie, and Brenna—a quilter, handbag maker, and jeweler, respectively. These women are remarkable heart people, and the guests who came were a treat to be with. There were so many smiles, so much love.

What's true can't be held back, and those blessings keep coming around, like hemp, or your stories of triumph, and the unstoppable goodness of people.