Here's a great transition dish that can be whipped up less than ten minutes to provide a hearty, high protein repast for those times when hunger really digs deep. Serve with veggie "crackers" (sliced carrots and celery sticks), and greens for a complete meal.
Ingredients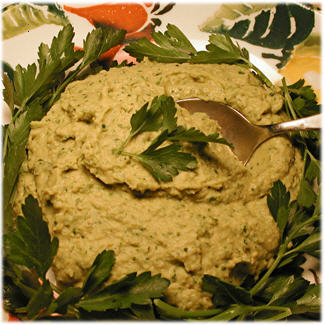 Serves 2
1 16 oz can garbanzo beans
1/2 cup parsley, chopped
4 tablespoons green onions, chopped
3-4 tablespoons lemon juice
2-3 tablespoons olive oil
1 tablespoon balsamic vinegar
1 clove garlic
1/2 to 1 teaspoon Celtic or Himalayan salt
1/4 teaspoon black, or cayenne, pepper
Directions:
Empty one can of garbanzo beans into a bowl. Rinse with cool water. Pour beans into a bowl, fill with water, and rub beans between palms to remove skins. Pour skins off. Repeat process several times. (This makes the beans much easier to digest.)

Drain, and put beans into food processor with parsley, green onions, lemon juice, olive oil, vinegar, salt and pepper. Run machine until hummus is as smooth as desired.

Serve with sliced carrots and celery, or other veggies or green salad.

A Little Story: Changing Tides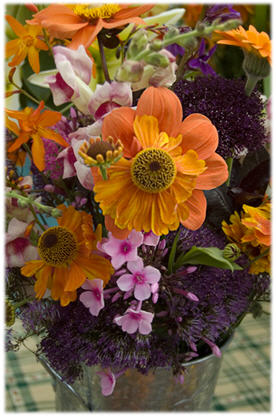 Our recent trip to California to help my mother who'd just been diagnosed with a brain tumor lasted for almost three weeks. Her wish was to move to Friday Harbor and live out the few months remaining in her life with dignity. We immediately said
yes!
and it was a marathon of work for all of us to make this happen.

We were under the gun to complete this change during the time when she could still travel. My brother flew in from Korea, and one of our sons who could get off work came from Portland. We had to get her house on the market, plan for an estate sale, complete all her legal and financial matters (broker, bank, taxes, will), doctor visits, a hospital stay for a biopsy, clean out the house, pack her things for the move, ship paintings and other personal items, and help her to say goodbye to her friends. At 82, she was an unstoppable force—a wonderful and energetic tap dance teacher with many devoted students.

During this time, we couldn't get enough raw food into us to keep our caloric intake high enough, and we were ravenously hungry with the heavy work load, pushing through exhaustion every day. This hummus recipe, teamed with veggies, helped us tremendously to keep going.

We spent two days returning to Friday Harbor and now our life is filled with hospice visits, and tending to my mother's needs. Our whole experience has been flooded with love, with help from so many people—angels that appeared for brief amounts of time, or those who were there every day helping to make my mother's dream of returning to her place of birth come true.

This loving energy was felt continuously like a cocoon wrapped around us, easing our grief, assisting with our process. To all these dear Souls, and to you, our readers, we say thank you—our gratitude is profound and immense, and we couldn't have done it without you.