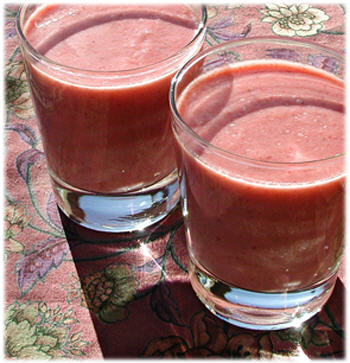 Serves 2-4
1 and 1/2 cups strawberries, fresh,
or one 10 oz. bag frozen berries
1 cup pure water
1 cup kefir (directions follow)
1 banana
1 fuji apple (peel if needed)
1 tablespoon agave (optional)
A shake of cinnamon in each glass (optional)
Directions:
Rinse strawberries, and remove any bad spots.
Wash and core apple. (Peel if necessary.)
Peel banana, and break into chunks.
Put fruit and optional agave into blender or Vitamix.
Add water, and blend until creamy.
Add kefir and blend briefly.
Pour into glasses, and sprinkle with cinnamon.
Making almond and hemp seed milk kefir:
3 1/2 cups pure water
1/3 cup dry raw almonds, soaked overnight
3 tablespoons hemp seeds
1 packet kefir grains, or 4 tablespoons kefir from previous batch
Directions:
Drain water from almonds and rinse. (Feed to houseplants—they love it!)
Put almonds and hemp seeds into blender or Vitamix with 1 cup water and blend on highest speed for one minute.
Add remaining water. Strain to remove almond skins.
Add
Kefir Starter grains
, or 4 tablespoons of kefir from previous batch to cooking pot.
Warm to 90 degrees (just barely warm to the touch) over low flame.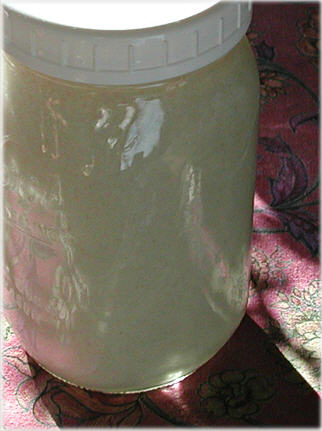 Pour into clean glass jar with lid.
Place in warm spot to ferment.
Note:
If kefir ever tastes or smells bad, discard and begin again with fresh starter grains.

In our photo, kefir ferments in the gentle warmth of the winter sun. We usually use a warming cupboard (a cupboard that has kitchen counter lights mounted directly underneath) that keeps the temperature constantly around 75-80 degrees—perfect for making kefir, or for soaking and sprouting various seeds and nuts, and ripening fruits, like tomatoes or avocados.

Check after several hours to see how the kefir is doing. It should have a mild, tangy flavor. The longer it ferments, the more tangy it will become—it can get a bit fizzy.

Some people strain the kefir and then reuse the grains. So far, we've yet to try this. Normally, we make about four to six batches from one packet of grains, although one time we made about 15 quarts before it started tasting too yeasty!

From what we've experienced, nut and seed milks acts differently than kefir made with dairy milk, because our kefir only takes about 4-8 hours to ferment, and it separates quickly, undoubtedly because nut/seed milk is not homogenized.

When most of the kefir has been consumed, and the jar is almost empty, with a few tablespoons left, we make a fresh batch of nut/seed milk, pour it into a clean jar and add in the kefir from the previous batch, and set in a warm place to do it's magic.

It's important to make sure the blender and jar are clean—kefir is a living, cultured food, filled with friendly flora that is just right for most people's digestive systems. Even so, if you have sensitive digestion, starting with smaller amounts—just a few tablespoons—may be a good idea.

Once kefir is done, the cream will rise to the top—its delicious—and the curds and whey will separate. Simply stir or shake gently before using. We've never used water kefir, so if any of you have tried it, we'd love to hear from you!

Coming next week: spinach wraps with pumpkin seed pate made with spicy garam masala!