Sometimes there are "those days" when we feel tired. We've discovered how to make this awesome raw soup in a few minutes and it never fails to energize us, or to fortify our bodies on those tired days or if our immune systems feel "on the edge".
Preparation time is about the same as making traditional cooked soup without the cooking time. If you don't have a juicer, then stop by the local health food store and order juice to go (24 ounces). And if you don't have a juicer or a local health food store, this recipe can be adapted to a salad just by grating all the ingredients. (Salad recipe follows soup directions.)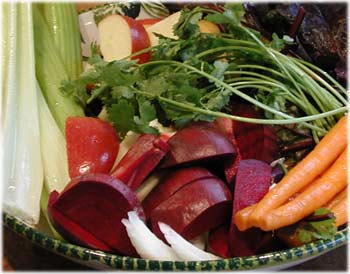 Invigorating Raw Borscht Soup
Ingredients for Broth—Serves 2:
Makes about 3 cups, or 24 ounces
6 carrots
2 large apples, such as Fuji or Honeycrisp
4 stalks celery
1 beet, 2 or 3 inches in diameter
1/2 cup chopped beet greens
2 tablespoons mild, sweet onion
Directions: Preparation time, 10—15 minutes
Wash all veggies and fruits. Scrub carrots and beets. Cut out any bad parts. Peel onion, and cut off enough to make 2 tablespoons, loosely chopped.

Run all ingredients through a juicer. Pour juice into a large bowl.
Solid Ingredients:
1/2 apple
1-2 green onions
3 tablespoons pine nuts
Optional: 1/4 cup sunflower seed cheese
(
see archived recipe
)
Directions
Clean, peel, and grate the apple.
Finely chop the green onions.
Add apple, green onions, and pine nuts to broth, and stir gently.
Ladle completed soup into bowls, and add a dollop of seed cheese.

Additional Optional Ingredients:
We often include any of the following ingredients: a parsnip, a few collard or chard leaves, one or two kale leaves, parsley, cilantro, lemon juice, a clove of garlic, or some green onions. These work beautifully to create a combination of complex and subtle flavors in the broth.

Borscht Salad Variation
Ingredients: Serves 2
2 carrots
1 apple
1 small beet
1/2 cup diced celery (about 2 stalks)
1/4 cup greens such as beet tops, kale, collards, or chard
1-2 tablespoons green onions
3 tablespoons pine nuts (or walnuts, hemp seed nuts, or other favorite nut)
Directions: Preparation time: about 5 minutes
Rinse, scrub, or peel carrots, beet, and apple.

Slice all ingredients, and run through a food processor, or grate by hand. Put ingredients into large bowl.

Rinse celery, peel tough fibrous strings if necessary, and dice. Add celery to bowl.

Rinse greens. Pat dry, and finely chop.

Rinse and finely chop green onions - you will want about 2 tablespoons. Add to bowl.

Put pine nuts in bowl.

Toss all ingredients thoroughly. Use favorite salad dressing, or use "
Lemony Stoneground Mustard Dressing
" from the Archive section.
A Little Story:
The Goodness of Each Other—a Simple Glass of Carrot Juice

Rex and I were standing in line at the community food Coop in Bellingham, Washington, waiting to get a glass of carrot juice. The price for a large glass of juice seemed expensive until I remembered a quote by the Dalai Lama: "Our very existence and well-being are a result of the cooperation and contributions of countless others." His words took on special meaning and triggered a thought process about how the carrot juice, being made for us in that moment, had come into our lives.

In my imagination, it all started with the vision and dream of the growers who wanted to have a farm, who worked the land, planted the seeds, tended, watered, and fertilized the baby carrots. Finally a crop was harvested.

Somebody from the farm had to wash, package, and box the carrots. Boxes had to be made to put the carrots into! People would load the boxes onto the truck, but first, trucks had to be built! And so a trucking company became someone's dream. The carrots would be shipped from the farm to their destination point, which would involve driving on roads that were already made by yet more people, using many machines from many different companies.

Next came the store who purchased the carrots—a place of business that was first envisioned, created and built by many people, using immeasurable resources. A buyer would be needed to handle the ordering, and an accountant to cover the bookkeeping, checkers and cash registers to handle purchases. In the warehouse, more people (possibly using fork lift trucks—yet another company), would be necessary to unload the carrots and take them inside. There would be someone to put the carrots into the vegetable bins to sell (bins that had to be made), and maybe another person would take the carrots over to the juice bar where they would then be ready to become juice.

I remembered to factor in the juicer, the people who designed and manufactured it, and the plant that was built to make the juicers. Again, there were shipping and handling people, trucks (maybe even trains, and planes) drivers, sales and marketing people, and so on!

And to think this whole scenario (and a whole lot more) had happened before we'd even seen the carrots that were being put into the juicer by a person who was working behind the counter, who then poured the finished juice into a glass (another factor), and handed it to us with a smile. Looking at the expense in this light, paying $4.50 for 12 ounces of fresh carrot juice seemed like a bargain!

I looked around at all the items in the store—
thousands of them
—and realized there was a similar story for each and every product the eye could see. It was an epiphany to contemplate on the goodness of the people who had brought this bounty to us, and this feeling brought a state of profound gratitude. Yes, the Dalai Lama was right, "our very existence and well-being are a result of the cooperation and contributions of countless others."

With ripples of gratitude spreading out from this realization, we'd like to thank every one of you for your unique gifts and contributions to the world, which help us all to live better lives!

See you next week!