We're in love with these chia seed chapatis! One of the nicest thing about them is that they're pliable so they can be folded or wrapped around tasty fillings, and they have a mild, delicious taste with a perfect chewy consistency.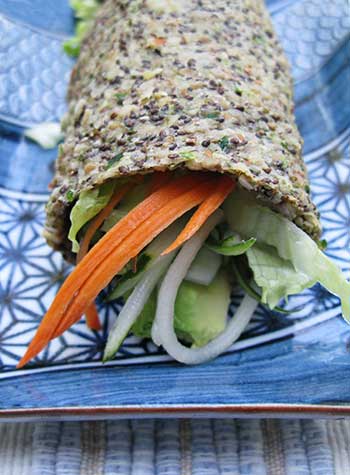 One of my favorite ways to eat chia chipatis is with a simple filling of shredded lettuce or cucumber, drizzled with a little olive oil and garlic. They can be eaten with just about any veggie or green that you like because the flavor is so compatible with veggies of all kinds. So put on some great music, get a groove on, and whip up a batch of versatile Chia Chipatis. They keep well too. Just cover and refrigerate.

About chia seeds:
they are an excellent source of Omega 3's, and are filling, nourishing and sustaining. They also have none of the estrogen effects of flax.

If the chipatis are dehydrated longer, they make a fairly crisp cracker. And if you're just transitioning to raw food, serving them with steamed veggies or a stir fry would make a lovely dish. Soaked chia seeds are also a great addition to smoothies and puddings.

Ingredients: Makes 2 Dehydrator Trays
Measure all ingredients carefully
2 cups pure water
1/4 cup chia
3/4 cup pumpkin seeds
3/4 cup sunflower seeds
1/2 cup almonds
1/2 cup green onions, chopped (use green part too)
1/2 teaspoon Himalayan salt
1/4 teaspoon black pepper
Extra salt to taste, sprinkled on top of chipati before deydrating

Note: Don't be fooled by the way soaked chia seeds look—they're amazing! The nuts and seeds can be soaked, but the drying time will increase and the texture of the chipatis will be different too.

Directions
Soak chia seeds in water overnight. Stir several time during the first 5 minutes. They swell very fast.
The next day don't rinse them off. You want the mucilaginous quality of chia because this is what will bind with the other ingredients and make the chipatis pliable.
Put sunflower and pumpkin seeds in a dry food processor. Grind to desired texture.
Add chia seeds, green onions, salt and pepper. Mix well.
Place 1/2 of the dough on a Teflex sheet on top of a mesh sheet and dehydrator tray.
Spread, using a spatula as thinly as possible, about 1/8 inch thick.
Repeat process on 2nd dehydrator tray.
Sprinkle on extra salt, if desired.
Place in dehydrator at 115 degrees, for 90 minutes. Flip over, and dry for another 30-40 minutes, no longer! (If you want to fold or roll them then they need to stay soft.)
Cut into rectangles large enough to add toppings and roll, or fold over.

Spoon or spread on chipati: Oil and pressed garlic, miso, or your favorite salsa or dressing.
Or make an almond-ginger-honey-garlic sauce with 4 tablespoons almond butter, 1/2 inch piece of ginger root, 1 clove garlic, 8 tablespoons water, 1 tablespoon honey (or 1-2 Medjool dates). Blend until creamy. Or substitute the ginger with 1/2 teaspoon curry powder.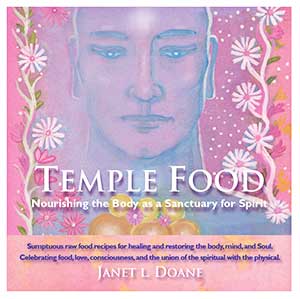 We're so excited to announce the expanded, 2nd edition of Temple Food is nearly ready to launch! I've been working on it since February when it came to me that a recipe section was needed for the message of the book to be complete. Now, the 206 page, full color book, contains our story, the poetry section with accompanying paintings that dive into the spiritual side of food and healing, and over a hundred delicious raw food recipes to ground a person into his or her own personal truth with intuitive eating, and loving the body through amazing food.

After five years of posting The Healing Feast, which has been our gift of love to the world, many of these recipes have been incorporated into Temple Food! I'd thought about making a companion book to Temple Food called The Temple Food Diet, and I'd thought about writing The Healing Feast book. The two ended up merging together and it feels just right.

The covers have been updated, giving a more vibrant, exciting look. We hope you agree! Of course we'll make a big announcement once we've got the final book in hand. (We're in the process of getting our proof copy.) It's been a wonderful experience, and we couldn't have done it without you, because your support and appreciation of The Healing Feast has kept us going all this time! I'm amazed at what has grown out of a simple desire to share our life and the way we eat with you.


There's enough recipes in Temple Food to keep you going for months, so that you never get tired of eating the same thing! And, as you know, we've done our best to keep the recipes low salt, low fat, zero gluten, and low glycemic, except for the fruit recipes.

Rex and I want to share with you the recipes that you'll be finding in Temple Food. Each page is filled with a visual feast of beautiful color photographs to inspire you to prepare the most nourishing and wholesome healing foods.

Hydrating Sun Teas, Fruit Waters, And Juices
Sun Teas: Culinary Herbs; Healing Herbs; Spices; Citrus Blends; Favorite Teas
Blueberry Fruit Water
Banana Fruit Water
Pineapple Fruit Water
Mango Fruit Water
Lemon or Lime Fruit Water
Nectarine Fruit Water
Peach Fruit Water
Watermelon Fruit Water
Papaya Fruit Water
Grape Fruit Water
Pineapple-Parsley-Citrus Juice
Easy Wheat Grass Juice
Apple-Lemon-Ginger Juice
Celery-Cucumber-Beet-Carrot-Ginger Juice
Orange-Pineapple-Grapefruit Juice
Spinach-Cucumber-Cilantro-Apple-Lime Juice
Romaine-Sunflower Sprouts-Cucumber-Celery-Apple-Lemon Juice
Watermelon Juice
Canteloupe Juice
Gazpacho Juice
Honeybush Chai with Almond Milk & Dates

Luscious Fruits & Smoothies
Six Fruit Salads
Ginger Applesauce
Raspberries with Banana-Cashew
Banana Power Smoothie
Three Green Smoothies
Grape-Nectarine-Plum Smoothie
Pineapple-Mango Smoothie

Succulent Appetizers & Sides
Savory Jicima Appetizer
Dilled Cucumber Rounds
Nori Roll Appetizers
Sesame Carrots with Curry Dipping Sauce
Apple-Orange-Ginger-Beet Side Salad
Spicy Asparagus Side Salad

Captivating Soups
Borscht Soup
Thai Style Soup
Warmed Miso Soup
Fortifying Spicy Soup
Spicy Corn Chowder
Vibrant Gazpacho
Spinach Dill Green Soup

Enticing, Piquant Salads
Love Salad
Celery-Apple-Avocado-Cashew Salad
Butter Lettuce Spring Roll
Spinach Wrap
Rainbow Chard Wrap 1
Rainbow Chard Wrap 2
Collard Wrap
Green Cabbage Wrap
Zucchini Pasta Salad Entree with Savory Marinara Sauce
Savory Herbed Salad with Rosemary-Thyme Dressing
Spicy Persimmon Salad

Engaging & Hearty Entrees, & Bread
Veggie Ribbons with Cilantro Pesto
Delightful Zucchini Rounds
Sweet Jamaican Quinoa: Transition or Raw
Pad Thai with Tamarind Sauce
Spring Rolls
Pumpkin Seed Patties
Sprouted Buckwheat Seed Cakes with Fig Jam
Sprouted Barley Bread with Sunflower Seeds

Wholesome Dressings, Sauces, Seed Cheese, & Condiments
Avocado-Cilantro-Lime Dressing
Orange or Lemon Juice Dressing
Orange-Coconut Oil Dressing
Lemon-Rosemary Dressing
Avocado-Celery Guacamole
Orange or Lemon Juice Dressing
Orange-Coconut Oil Dressing
Easy Basil Pesto Dressing
Honey Mustard Dressing
Sweet & Tangy Curry Dressing
Savory Thousand Island Dressing
Protein Rich Zucchini-Hemp Seed Herbed Dressing
Ginger-Date Dipping Sauce
Thai-Curry Dipping Sauce
Lemon-Rosemary Dressing
Almond-Ginger-Lime Sauce
Almond-Cashew Cream
Creamy Cucumber & Dill Tahini or Seed Cheese Dressing
Sunflower Seed Cheese
Quick Pickles
Homemade Almond Butter
Spicy Mango Chutney

Delectable Desserts
Apple Blackberry Pie with Blueberry Sauce
Banana Ice Cream
Pears with Nectarine Sauce
Almond Persimmon Cookies with Blueberry Sauce
Amazing Raw Pies
Blueberry Pie
Holiday Apple Pie
Frozen Banana Cream Pie
Persimmon Pie
Carob Macaroon Snow Cookies
Deep Dish Pudding Pie

Remember to visit The Healing Feast Archive to find wonderful ideas for the holidays.
Here's a suggested menu:
Chia Chipatis with fillings
Sesame Carrots with Curry Dipping Sauce
Sweet Jamaican Quinoa with Mango-Tomato Topping
Miso Soup
Savory Herbed Salad
and
Persimmon Pie
.
Good things are coming!