Our taste buds were delighted with this juicy and delicious citrus salad. The star ingredient is a Cara orange that we've just discovered. It's a cross betweem a Naval orange and a Bahia orange from Brazil. They taste like the kind of oranges we dream of—rich, dripping, running down our faces with juiciness, and filled with such flavor, almost like perfume!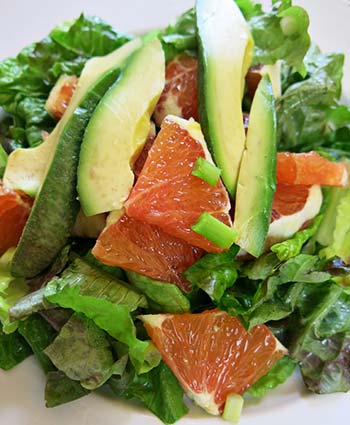 Enjoy this super simple, easy to make salad, and top it off with your favorite dressing. We drizzled on a little Juniper Balsamic Vinegar, and it was perfect.

Ingredients: Serves 2
4 cups greens (we used red leaf lettuce), chopped or torn
1 Cara orange, peeled and cut to desired size
2 tablespoons green onion, finely sliced
Avocado slices—4-6 per person
Tiny shake of cayenne pepper

Directions
Rinse greens and pat dry. Tear or chop to desired size. Arrange on plates.
Peel, quarter, and chop orange, and put sections on top of greens.
Slice green onions, and toss on top.
Cut avocado in half, peel, remove pit, slice, and lay on top.
Give a tiny shake of cayenne for spicy hotness.

The Little Story: Taste buds!
Raw food is the most amazing cuisine to heighten taste buds! Rex once spoke with a woman who said raw food tasted like cardboard to her—then he watched her drink scalding hot coffee, a sure way to do some damage to taste receptors that would be otherwise experiencing subtle flavors of fruits and veggies.

When we went raw, we couldn't believe how good food started to taste. We began to perceive a myriad of nuances in the various flavors, robust and delicious, that we hadn't experienced prior to that time, and wondered how we could have missed so much before. We didn't learn about enhanced taste buds until many years later.

Eating raw food, which is served either cold, cool, room temperature, or slightly warmed, will bring taste buds back to life. Our sense of smell becomes more acute over time, as well. To increase eating pleasure, Victoria Boutenko suggests in her book, "Twelve Steps to Raw Food", to try to include all four categories of tastes for any given dish—sweet, salty, tangy, and bitter—and that a combination of these makes a dish taste so much better.
Click here
to learn more (pages 143-44).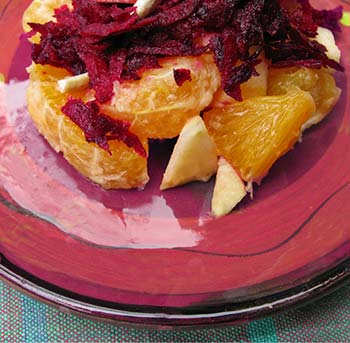 About six months ago it was our turn to discover something: we had been pining for some cooked food pasta, thinking we'd been missing out for so many years. We finally decided to buy some, cooked it up, made a tomato sauce, and were fascinated to see how much we'd enjoyed it. The result? Like the woman who didn't like raw food, it tasted like cardboard to us! It was then that we realized how much we preferred our warmed, raw zucchini pasta that we enjoy 1-3 times a week, with a variety of toppings and sauces to keep things exciting. And we were delighted to know that the old craving had ended!

We'll be thinking of you in your kitchens, experimenting, creating, making yummy foods to nourish and delight. (Photo at right is
another salad
from the archive that we made with oranges, a few apples, and beets.) Taste and smell are so important for making food that will bring deep satisfaction and happiness. This is a life-long journey for Rex and me... we want to go the distance, continue to learn and grow, and to enjoy the foods that are closest to the garden of life!