Rex made these super crunchy cookies one night by combining two recipes—our buckwheat granola, and carob coconut and seed cookies. The combination is delightful. We compared our cookies to a similar ready-to-eat treat on the internet, and their cost was $3.49 per ounce, for just one cookie! That's $56.00 a pound! Ours costs are way less than this, so indulge and enjoy!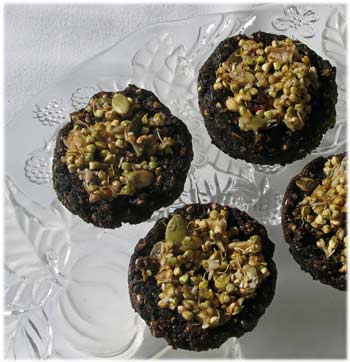 Ingredients
Makes 6-8 large cookies
1 cup
Granola
(click on link)
1/4 cup sesame seeds
1/4 cup coconut
4 tablespoons carob powder
3 Medjool dates
3 tablespoons agave
1 tablespoon plus 1 teaspoon tablespoons pure water
1/4 teaspoon Himalayan salt
Topping: 1/2 cup granola
Directions
Put granola in bowl and break apart to small pieces.
Grind sesame seeds and coconut in a coffee or seed mill.
Put sesame seeds, coconut, carob, dates, and salt in food processor and mix well.
Add to granola, and mix by hand, breaking up granola into small pieces.
Add agave and water. Add water slowly—the dough can suddenly become too soft.
Mix until dough clumps, and holds together into one large ball.
Press several tablespoons of dough into a round cookie mold. Transfer to plate.
Press extra granola on top.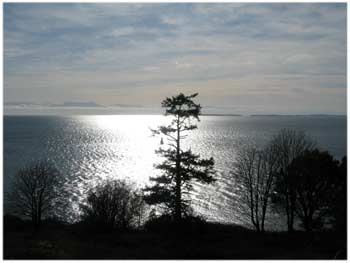 I call this tree "Eagle Tree", because there often is an eagle perched on the high branches, taking in the setting sun on the west side of the island.
Sometimes Rex and I just don't want to do something, even if we know it's good for us. Sometimes I don't want to eat raw food, even though cooked food makes me tired, and my face breaks out.

Yet there are many aspects to our psyche and being that need to be nourished, and we can choose to take the path of least resistance and allow changes to happen organically, when they're ready to happen.

The late Dr. Wheelwright, master herbalist, recommended that people have one day a week away from their supplements. This ensures that the body doesn't develop resistance or sensitivities to any of the healing substances, and a person in need can take the remedies over long periods of time.

Sometimes a day of rest, a day away from being so "good", is the perfect solution. These cookies are an excellent choice for times like this. They feel indulgent, yet are healthy, and they help us to have fun, to relax, and restore.