No.... you aren't dreaming! This luscious desert is so easy to make and tastes so good it's hard to believe it isn't sinful! And you can eat all you want. Served with raw cookies, this recipe almost becomes a whole meal! The ice cream is made from frozen bananas—that's all! After freezing, the bananas are pushed through a juicer (we've used both a Champion and Green Star juicer with success), and the ice cream comes out like what we remember having eaten years ago at "Tastee Freez"—a smooth and velvety treat. The main difference is that frozen banana ice cream is actually good for us!
Banana Ice Cream: Ingredients and Directions

Serves 2 - 4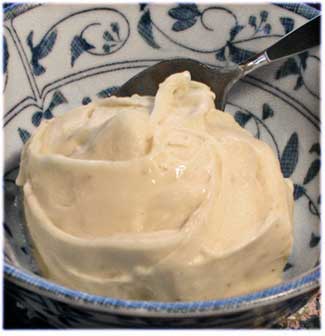 4 ripe bananas—they must be really ripe or you will need to add sweetener.

Peel bananas and slice into rounds about 1/4-1/2 inch thick.

Place rounds on a tray or dish and put in freezer for 4-6 hours, or until completely frozen.

Remove bananas from freezer, and push fruit through juicer with the "blank" in place.

Scoop ice cream into individual bowls. Serve plain or with
carob cookies
, and enjoy!

Tip: Ice cream can also be made in a food processor. Place sliced frozen bananas into processor, and pulse. Then run machine until texture is smooth.
Variations:
Frozen mangoes, pushed through the juicer along with bananas, work beautifully and impart a delicate, tangy flavor. Try other frozen fruits, like strawberries or blueberries, for more yummy flavors, or add chunky nuts like cashews, coconut, carob or chocolate chips, for fun toppings.

We're dreaming about a better world. The time is at hand.... are you feeling it too? Everything appears to be shifting, and despite outer turmoil in the world, inner beauty and love are bathing us with goodness. Rex and I often remind ourselves daily to choose love, to help create changes that bring love for ourselves, for the good of the whole. Sometimes this means doing the hard thing as our ego patterns fall away, yet after awhile, these choices can actually become the easy way—being responsible, being accountable. Dreams thrive in the heart.

Dream Poem

If she dreamed her world to be revealed
there would first be the rounded turning of her heart
pregnant with intention, awaiting illumination.

Against the noise of civilization,
she could sense perfection unlike any other dream:
it was always there, always near,
a life both ancient, and reborn.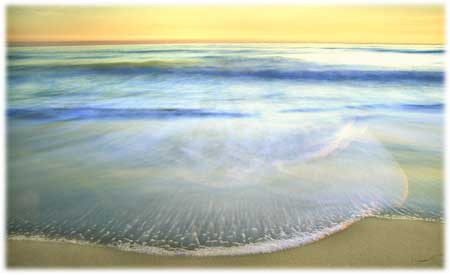 Longing rose, like a patch of cloud, or muted cry,
tended from darkness to light—
delivered on a swelling tide.

This dream was like
a whispered crossing of the currents
whose blue sheen
covered the waking world,
and breathed, and breathed an endless sigh
of ecstacy on the rise.

The dreamer lay awake, listening,
writing fragments of a vision,
pressing her inner sight onto an unseen page
that told about a story without end—

of cycles that spiraled to heaven
like a golden wave, cresting,
and touched upon the softness of an eager shore.

Janet L. Doane