This is a pie to savor! We recently bought some little tartlet tins with removable bottoms that are used to push the tarts out. Our plan was to make little tartlets— but it wasn't to be—I needed more practice! So I decided to be creative and not stress, and use our nut crust in a regular pie plate and fill it with a mincemeat fruit and spice filling for an amazingly delicious and rich pie, made sinfully good with cashew cream (see below)! A small serving is very filling. Refrigerate leftovers—it's great the next day as the flavors meld. Serve with either
cashew cream
, or
banana ice cream
.

Ingredients:
Makes one 9-inch pie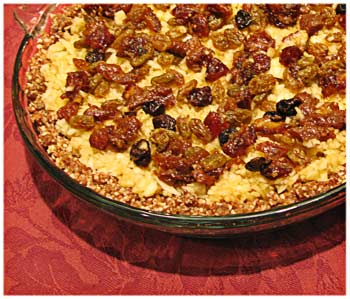 Crust: make first
1 cup pecans
1/4 cup walnuts
1/4 cup almonds
1/4 cup ground coconut
3 Medjool dates
2 tablespoons raw agave nectar
1/4 to 1/2 teaspoon Himalayan salt

Put dates into food processor and mince.
Add nuts, coconut, and salt, and process to a fine texture.
Add agave and mix again. Note: Crust should be moist enough to just hold together when pressed between fingers. If too crumbly, add a tablespoon of water.
Press into pie plate. Set aside.

Filling:
3 cups apples, chopped
1/4 cup raisins, soaked
6 dried apricot halves, soaked
2 Medjool dates, chopped
2 teaspoons brandy
1/2 teaspoon orange zest (grated orange peel)
1/2 teaspoon cinnamon
1/4 teaspoon nutmeg
3 shakes clove
1 tiny little shake cardamon—very pungent, use just the smallest amount!
juice of one small lemon

Soak raisins, dates (if they're dry), and apricots in 1/4 cup water for 30 minutes to soften. Scoop fruit out and reserve liquid for cashew cream.
Wash, core, and peel apple (if desired) and chop. Squeeze lemon juice on top, and put into food processor. Pulse to desired texture.
Spoon into crust, pressing gently into place.
Chop dates and apricots. Put into bowl. Add raisins, brandy, spices, and mix well.
Wash orange, dry thoroughly. Grate, and add to fruit. Mix well, and spoon on top of apple layer.

Cashew cream:
1/2 cup raw cashews
1/2 cup + 1 tablespoon water (from fruit soak, and additional water)
1 tablespoon raw agave nectar, or 1 Medjool date
Put ingredients into blender and blend until creamy smooth.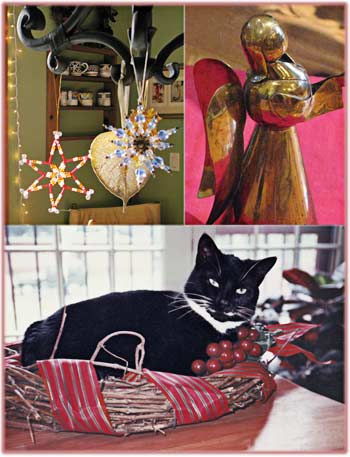 For us, the holidays are a very creative season. This energy shows up in the food we prepare, the decorating, and in new artwork that's made for Christmas. We look forward to this time of year when magic dances on the lighted trees and houses, or touches us in a delicate snowfall, or in the smiles on beloved faces of family, friends, and strangers passing by.

I believe we are co-creators with life, with Spirit. We're not just living a love-based life—in our world we're actually creating a life through love, that we then live. When creativity is flowing, fresh new ideas flood our being, and excitement grows.

Rex and I often ask ourselves, what do we wish to create so that we may live our lives in a way that reflects the highest good within our hearts? There's no single answer—it feels deeply multifaceted. The expression of desire is unique with every person—and the impetus for any action we take is ideally going to be just for love.

These are thoughts to dream and grow with, thoughts that take us to new levels of transformation. And as we take time to appreciate what's been accomplished this year, we find that we're already dreaming of new adventures that we wish to fill with love in the coming year.