Pad Thai is one of the dishes that we've missed over the years, yet still crave on occasion, so we decided to create a zesty raw food version. Our recipe is light and tangy with a rich, tamarind sauce. Wow your friends with this unusual and delectable meal!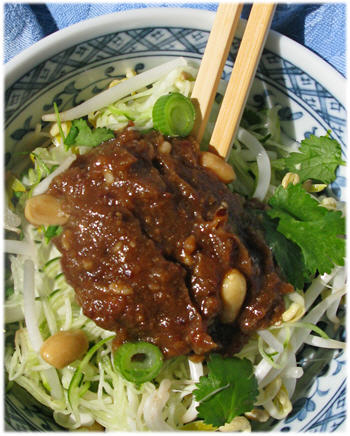 Pad Thai Sauce: Serves 2-4
6 tablespoons pure water
1/4 cup Tamarind Paste (Panda brand)
2 tablespoons
South River Azuki Bean Miso
(or your favorite)
2-3 tablespoons raw agave
1 clove garlic, pressed
1 tablespoon freshly grated ginger root
1 teaspoon unseasoned, brown rice vinegar
1 teaspoon fennel
1/2 teaspoon coriander
1/2 teaspoon cumin
1/16 teaspoon cayenne, or a few shakes of red pepper flakes.

Directions:
Put tamarind paste (ours had seeds and pod pieces in it) into the water and let soak for ten minutes. Press with a spoon to break up pieces.
While paste is soaking, prepare remaining ingredients.
In a bowl, put miso, agave, ginger root, vinegar, garlic, fennel, coriander, cumin, and cayenne. Mix well.
Press softened tamarind through a strainer.
(You will need 1/4 cup of the finished paste.)
Add to bowl, and mix all ingredients thoroughly.

Pad Thai Ingredients:
1 and 1/2 cups
Zucchini "pasta"
1 package (or about 3 cups) super fresh mung bean sprouts
1 and 1/2 cups cabbage, super thinly sliced
1/4 cup cilantro leaves
1/4 cup green onions, finely chopped
1/4 cup
Jungle Peanuts
*
2-3 tablespoons Spectrum walnut oil, or mild olive olive
2-3 tablespoons fresh lime juice
1/2 teaspoon Himalayan salt

Directions:
Rinse zucchini, mung beans, cabbage, cilantro, and green onions, and drain thoroughly.
Grind zucchini using a Saladacco to make "pasta", or, shred with a vegetable grater. Place in large bowl.
Add cabbage, mung bean sprouts, cilantro, green onions, oil, Jungle peanuts, lime juice, and salt to veggies, and mix thoroughly.
Place in individual bowls, and spoon on tamarind sauce.

*
Jungle peanuts
are a completely different kind of nut than peanuts, without any of the allergies associated with peanuts. If you can't get Jungle peanuts, try regular peanuts (shown in our recipe), or cashews.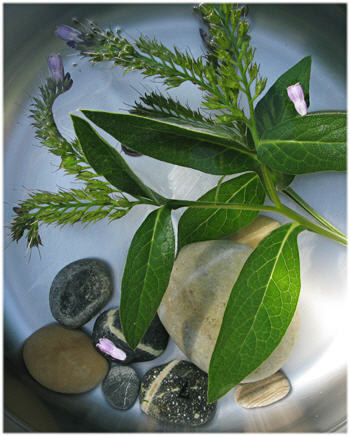 As some of you already know, four and a half years ago I injured my left foot and it changed my life. It was very slow to heal, so we decided to begin a 100% raw food diet in hopes of hastening the process. It's impossible to know if this decision has made a difference or not to the foot (because of a host of complications), but it changed so many other areas of our lives that we're not the same people today that we were five years ago. The Healing Feast would not even exist had we not made the shift in diet and lifestyle.

A constant companion to healing my foot has been foot soaks. We first learned about alternating hot water with ice cold soaks to stimulate circulation, and decrease swelling. As the years have passed we've experimented with a variety of soaks: Epsom salts, seaweed, chlorella, essential oils, cayenne, ginger, rosemary, comfrey, French green clay,
Zeoforce
, apple cider vinegar, sea salt, nourishing rosehip powder, and ionic foot baths. All have yielded positive results. We rotate the treatments, working with our intuition.

The seaweeds, chlorella, and clay are powerful detoxifiers, and pull out heavy metals and other toxins. A friend, Megan, came over one night with a nasty spider bite she'd gotten a week prior to our visit. I suggested a French Green clay foot soak. In twenty minutes all remains of the bite had vanished, and her foot was rosy and healthy with no problems the following day!

I've had a real challenge with detoxifying from heavy metals—cadmium in particular, and the foot soaks have been a blessing. When I use a seaweed, chlorella, and clay mix, I literally feel toxins being pulled out of my body, with a sensation of pinpricks in my arms, legs, torso, even the head!

In researching foot soaks and reflexology, I found many other kinds of foot treatments, such as using hot or cold stones to warm, or cool, the feet. Smooth, clean, river or beach stones can be put into a foot soak for the feet and toes to rub against, and to work on various pressure points.

The best foot treatments happened in Hawaii from soothing walks crossing the hot sandy beach to the shore, coupled with swimming in the buoyant, salt-rich ocean. There's just one problem with this scenario—being able to get there! So until we return to the tropics, our large cooking pot will be filled several times a week with various healing substances which will carry our feet and minds into states of bliss and well being.