Banana bread, teamed with seasonal sliced pears, cashew cream, and sprinkles of nutmeg and cinnamon, makes for a perfectly decadent, yet healthy, dinner! Learn how to make this treat now, and be ready for the holidays!

We love to make this banana bread and sometimes have it for dinner, mostly because it takes a longer time to dehydrate—about 6 hours, and I usually begin making it about noon. This makes the banana bread ready to eat, warm and delicious, about the time we're hungry for dinner. Makes great leftovers too.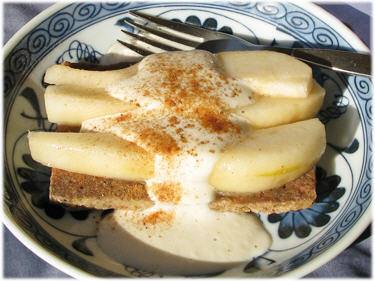 Ingredients: Makes two, 5" x 12" breads.
Serves 4-6.
2 cups sprouted buckwheat*
3/4 cup raw walnuts
1 large ripe banana (1 cup), sliced
3-4 Medjool dates, pitted and chopped
1/2 teaspoon Himalayan salt

Directions:
Start sprouting buckwheat two days before making the bread.
Soak 3/4 to 1 cup buckwheat overnight in a one quart jar filled to the top with pure water.
Transfer to a large strainer, rinse well, and cover with a plastic bag.
Rinse twice daily until sprout tails are about 1/8"-1/4" long.
Rinse sprouted buckwheat and drain completely.
Put in food processor.
Add banana, dates, walnuts, and salt to food processor.
Run machine until dough is smooth, with a "fluffy" texture.
Spoon out onto Tefex dehydrator sheets, making two long rectangles about 5" x 10", with a thickness of about 1/2 inch. (It will flatten down during the drying process.)
Dehydrate for 6 hours at 110 degrees. Flip over after three hours.


Cashew Cream Topping:
2-3 pears (peel if necessary)
1/2 cup raw cashews, soaked 2 hours (soaking is optional)
1/2 cup + 1 tablespoon water
1 tablespoon raw agave nectar, or 1 Medjool date
Several shakes cinnamon
Several light shakes nutmeg (flavor is strong—don't overdo)
Lemon juice: a few drops squeezed on top at end (optional)

Put cashews and salt into blender with water and sweetener.
Blend until totally smooth and creamy.
Slice pears.
Cut bread to desired size, and place onto plates.
Put pear slices on bread, and pour cashew cream on top.

Sprinkle on cinnamon, nutmeg, and lemon juice, and serve!

I'm sure that many of us remember from our childhoods,
you can have your dessert after you've finished eating your dinner!
Well, here's a switch—we're eating dessert for our dinner.

We first learned about having desserts as a meal when we watched Alissa Cohen's Living on Live Food DVD. She talks about eating foods at any time of day—breakfast foods for dinner, or dinner foods for breakfast. It really doesn't matter, she expounds. What matters is eating what feels right when it feels right! Our pies,
persimmon
,
blueberry
, and
holiday apple
(shown at right), are tempting treats for just such moments!

Raw food has this delightful element of surprise. The constant flow of improvising and creating new recipes has us often eating in unconventional ways. Alissa mentions she has, at times, eaten a whole banana cream pie for breakfast! This got us considering having desserts for dinner, and from time to time we'll have a pie in the evening, and now, banana bread has been added to this list.

We're thinking that this Buckwheat Banana Bread is what we'll be eating for breakfast on Christmas morning, or for New Year's eve dinner, toasting our friends and readers who may be doing just the same! Enjoy!